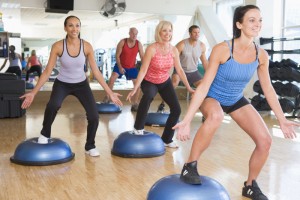 A physician and exercise physiologist at the San Antonio Air Force Hospital in Texas by the name of Dr. Kenneth H. Cooper tried to find a way to prevent coronary heart disease.  He and Colonel Pauline Potts a physical therapist of the United States Air Force as well were confused with why people who were with astonishing and excellent muscular strength not able to perform well with activities like running, swimming and bicycling.  With this problem in mind, he conducted a study on systematic human performance using a bicycle ergometer.  In the course of his study he measured an individual's ability to perform along with his ability to use oxygen.  He released a book that discussed the exercise system using the knowledge he gained from his research and called it Aerobics.  The system was initially intended for astronauts.  They were carefully monitored for pulse rate and oxygen consumption. The release of his book during 1968 was followed with the successful development of the aerobic dance by Jackie Sorenson the year after.  In the next twenty years, aerobic dance and exercise spread throughout the United States and the whole world even becoming a competitive sport.  Between 1978 and 1987 alone, the number of people who embraced Aerobics grew from 6 million to 22 million.  This increase was the positive response of people who realized how a sedentary lifestyle or lack of exercise can prove detrimental to their health.
Aerobics is a system of physical exercise that is formulated to burn fat while successfully increasing flexibility, muscular strength and improving cardiovascular fitness. Aerobics keeps your heart and lungs in good conditions if done regularly.  It helps your heart operate more.  The pacing that it places on your heart will in the future help you exert less effort during exercises thus elevating your endurance.  Along with these awesome benefits Aerobics helps to release endorphins, augments body's efficiency to take in oxygen, increases quality of sleep, intensifies resistance to fatigue giving you more energy, helps avoid overheating and reduces blood pressure improving overall circulation.  In total, it is safe to say that it gives your body a much needed overhaul.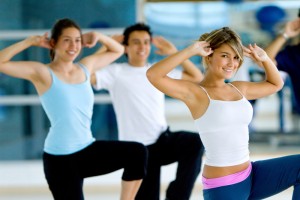 There different types of Aerobics are Water Aerobics, Step Aerobics, Dance Aerobics, Sport Aerobics and Low Impact Aerobics.   You can choose whichever suits your health or level of fitness, schedule and preference.  You can also choose between joining a class and going solo and furthermore with or without the accompaniment of music.  It's all up to your desired convenience really because either way, it doesn't take away the fact that it brings numerous health advantages.  Anybody, who gives health an importance or anyone who is seeking a vigorous and pleasurable activity can enroll for an Aerobic learning experience.  Any person with the interest can definitely take part in it.  There is a variety of Aerobic equipment that you can use, though they are not really required.  Aerobic equipment may include skis, bicycles, trampolines, jump ropes, toning bars, steps, heart rate monitors, floorings, fitness bands, exercise balls, dumbbells, boxing equipment, a BodyRev and exercise mats.  It would be good if you check first if the routine you will be executing will use the equipment first before buying one. The variety of the equipment only applies if you wish to spice up a dance routine even more.
If you have caught the Aerobics fever, for your own safety you can choose to consult your doctor for the intensity of work out you can start with.  Usually for beginners, the routines are not as strenuous yet.  Aerobics is a progressive type of exercise.  It first allows your body to be able to adjust to the physical activity first before leveling up.  This is especially important to people who have illnesses, injuries or those who are not used to exercise like people who have sedentary lifestyles.  The first few sessions will certainly be a bit challenging as you will be experiencing soreness of your body or muscles which is just normal. There is no need to be hard on yourself.  You have to conserve a relaxed pace, meaning you have to still find it enjoyable and breathe easily through the exercises.  You shouldn't feel faint at all.  The benefits are best achieved if you do the training in stages and if it is coupled with a healthy lifestyle and diet.  Make sure that you also stick to a regular exercise regimen with short-term and long-term goals.  Comfort will also ease the transition so choose a comfortable workout attire and you're all set!