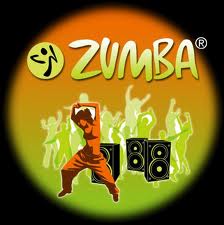 Zumba!  It does have a personality and identity with the sound of its name, doesn't it?  Zumba (pronounced as zoom-bah) is as interesting as its name.  Zumba is a Latin-inspired fitness program that deals with dance and aerobic elements.  What sets it apart from other dance classes is that it uses music with repetitive movements without the use of counts.  The overall choreography of Zumba is an incorporation of hip-hop, mambo, squats, lunges, merengue, mambo, martial arts Bollywood, belly dance, samba and salsa movements.  The exercise entails fast and slow movements with resistance training to the music of high-energy Latin and international rhythms.
The world can thank Alberto Beto Perez for this newZamba.  Alberto came from a poor barrio in the Colombian city of Cali.  He was a fitness instructor back in his hometown and in one occasion in 1990, he forgot to his traditional aerobic music.  His ingenuity led him to use what was available which some salsa and merengue music.  He then improvised a class which best suited the Latin music he used.  The class which was filled with high-energy music, calorie-burning and fun-filled movements became a success.  The participants loved it without a doubt.  Being a dreamer, he took Zumba to the United States in 1999.  At first, no one even took a moment to check what Alberto had to offer.  It came to a point that he even had to sleep in the park for a couple of nights.  Zumba finally took one step up as one fitness-center manager asked him to perform impromptu.  As Alberto danced Zumba, passersby began to come inside one by one until he had an audience of fifteen.  He then got his break as a fitness instructor.  In the year 2001 two entrepreneurs by the name of Alberto Perlman and Alberto Aghion teamed up with the father of Zumba and the rest is history.
There are six types of Zumba classes and they are:  Zumba, Zumba Gold, Zumba Toning, Aqua Zumba, Zumbatomic and Zumba in the Circuit.  Zumba Gold is perfect for baby boomers and older participants who have just decided to take the road to fitness.  Zumba Toning on the other hand helps tone and sculpt the body for that wonderful figure.  Aqua Zumba is perfect for those who are always up for a fresh and new way of getting rid of all the routine that bores the fun out of us.  It involves a challenging water-based aerobic workout with splashing, stretching, twisting, shouting, laughing and hooting.  The Zumbatomic class will definitely chase away your beliefs that dancing is too complicated for kids.  This class has kid-friendly routines that are just as beneficial.  Kids will be able to improve with regards to focus, self-confidence, have better metabolism and an increase in coordination.  Business will be driven away with the Zumba in the Circuit class.  While most Zumba classes require an hour of work out, Zumba in the Circuit is especially designed for a 30 minutes flat work out.  It is still as efficient because it moves students from one exercise station to the next to different beats.
Zumba can help you lose weight, tone your body, help you pursue fitness, increase your confidence and of course have fun!  Anyone can take up this class.  You don't even have to be a dancer to be able to get into the groove.  It is especially designed to cater to all types of people; men or women, young or old, musically inclined or not.  So as long as you do not hate fun you are an eligible candidate for it.  Zumba is as flexible as its name.  You can learn it in a dance class or you can buy videos and learn it from home.  Unless it is contraindicated for you to be worked out, you just need your work out outfit and enroll in a gym class or buy a Zumba DVD and you're all set.  If you are considering a dance studio you areencouraged to check out the different classes and instructors.  Sometimes some people do not find the instructor fit for the routine they seek and that is okay.  Depending on the intensity of your practice, in an estimate you can burn more or less five hundred calories is an hour of Zumba.  It wouldn't be as stressful as well because the dance moves are not sought to be perfectly executed.  Routines are fun and you wouldn't be noticing how the class is targeting all the muscles in your body.  So take away all the pressure on yourself.  Let loose and take a Zumba class.  You don't have to worry about anything.  After all, the key to the efficacy of Zumba is that it is enjoyable!  So find the perfect instructor for you and dance your way to fitness!